We are delighted to have achieved planning permission for a block of 12 flats in a highly sustainable location on Wimborne Road, Poole.
The two semi-detached dwellings will be replaced with a block of apartments made up of 10 x one bedroom and 2 x two-bedroom apartments set over 3 floors. The overall appearance of the proposal fits comfortably within the street scene and neighbouring development. This provides an acceptable pattern of development and visual appearance which adds interest and visual amenity to the street scene.
The layout of the development was carefully designed by our architects – ARC Architects, to ensure that no harmful effect to neighbouring amenities occurred. The amount of development has been driven by the need to provide high quality residential dwellings whilst respecting the character of the surroundings which will help towards BCP meeting their housing targets.
We would like to thank Pure Town Planning for their expertise in getting this application through to approval.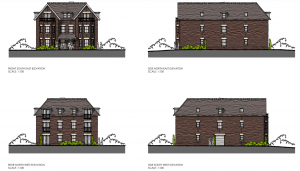 Amirez for your bespoke, quality and dedicated architecture and design
Specialists in Dorset's beautiful locale, Amirez are the county's number one for imaginative and innovative design and architecture, having worked on many stunning homes across the South. Why not check out our website, or give us a call to discuss your requirements on 01202 677349.